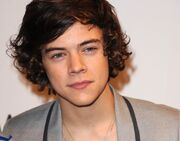 Harry Styles was added as a playable character in version 64.
Even though attempts have been made by A32b to make this fluffball be #1 in the top characters,these have been useless.
Nicolas Cage stilll dominates favorite character chart and even has his own achievement! Truly amazing for a lord of darkness.
Speed run attempts
Edit
Many speed run attemps have been made but none was successful until version 63. The Harry Styles fanbase in the please be nice :( community grew very large, and the feature was finally added to the game.
Personality
Edit
Not everyone can deal with Styles. He tends to be a bit clumsy, as officially stated by the beat guy. Styles requires skill and style.
Ad blocker interference detected!
Wikia is a free-to-use site that makes money from advertising. We have a modified experience for viewers using ad blockers

Wikia is not accessible if you've made further modifications. Remove the custom ad blocker rule(s) and the page will load as expected.